May 31st marks the tenth anniversary of the opening ceremony of the 2002 World Cup, and there are plenty of articles related to that tournament popping up all over Daum and Naver.
This one
I thought had a particularly interesting graphic comparing changes in what is essentially grass roots football in Korea from 2002 to 2012.
The categories are:
School teams (elementary, middle, high and university)
School teams (female)
Student players
Student players (female)
School coaches
Youth clubs (registered with the KFA)
Football venues
KFA budget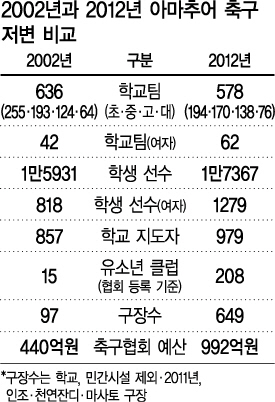 The venues stat is rather interesting, I think it says at the bottom it excludes school and private facilities and is the number of publicly-accessible grass and artificial football pitches across the nation at the end of 2011.