A whole host of interesting articles have been published today with financial figures for the K1 and K2 clubs primarily focusing on the salaries paid to players. It would appear to be domestic players only as foreign imports are not included. This first graphic contains the whole lot of information, although annoyingly it's at a small resolution so a bit hard to read: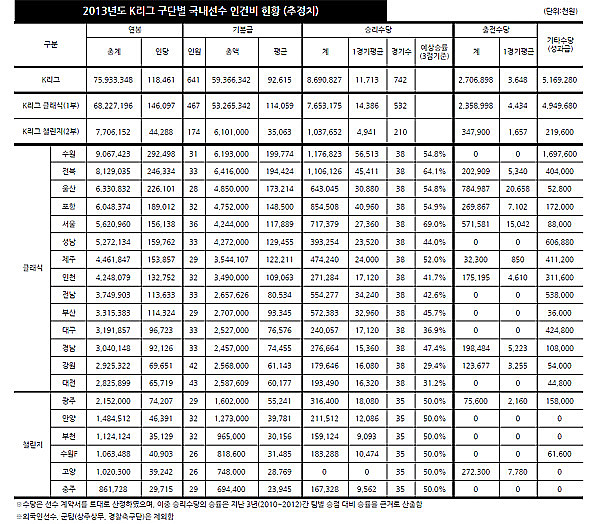 This second one is a lot more clear cut - it lists squad sizes, total wage bill and average player salary for all clubs in the two divisions excluding Sangju and the coppers. Figures are in multiples of 천원 so add three zeroes to get full figures to work with.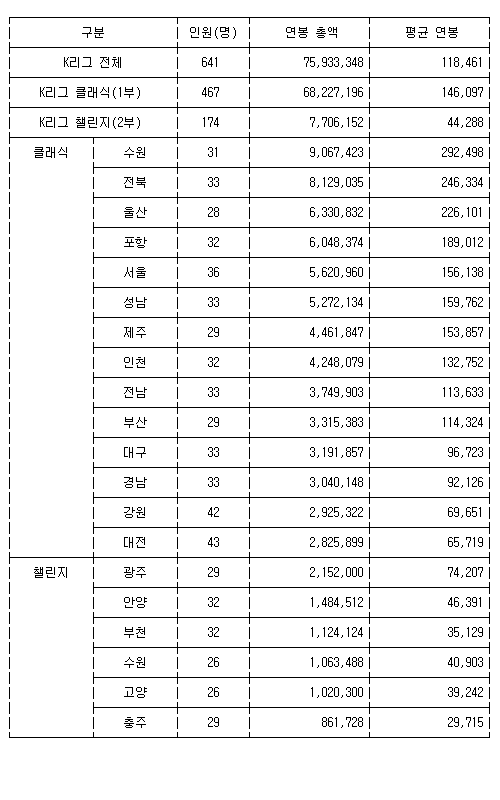 Suwon unsurprisingly top out the list with an average salary of W292,498,000 ($260k), Daejeon have the lowest in K1 at W65,719,000 ($58k). That's clearly driven down by the dozens of youth players they have cluttering up the squad, there's a fair gap between Gangwon & Daejeon and Gyeongnam but then squad sizes are considerably different. Have to say I'm quite surprised Suwon are paying so much more than any other club, particularly as their wage bill is around 60% higher than FC Seoul's.
I like how Seongnam have the 6th highest wage bill and the 5th highest average wage yet they're sitting bottom of the pile