Although I'd like to see actual balance sheets to get a bigger idea of what's been happening, Daejeon, Gyeongnam, Daegu and Incheon all
reported
operating profits from the 2008 season which is extremely good news.
The first graphic shows the revenues generated by the four clubs in ok-won which equates to the following (conversions via xe.com):
Daejeon: 8,300,000,000 won ($6,104,495)
Gyeongnam: 10,000,000,000 won ($7,354,813)
Daegu: 8,200,000,000 won ($6,030,960)
Incheon: 15,000,000,000 won ($11,032,244)
The second graphic indicates net profit or loss for the clubs from the past three years. Incheon have been doing well, mainly through selling on players for a sizeable profit, and Gyeongnam have clearly benefited from selling Cabore and Popo to Japanese clubs otherwise they'd have been looking at another sizeable loss. Daegu's income was boosted by the near-$2m shirt sponsorship revenue from Doosan Construction, and a rather impressive $4.2m in advertising and sponsorship income.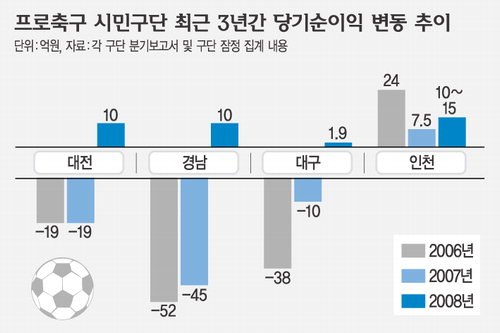 Net profits for 2008
Daejeon: 1,000,000,000 won ($735,426)
Gyeongnam: 1,000,000,000 won ($735,426)
Daegu: 190,000,000 won ($139,739)
Incheon: 1,000,000,000 ~ 1,500,000,000 won ($735,426 ~ $1,103,208)
No economic doom and gloom in the K-League