Noticed an absence of a guide to the hallowed turf of the Gudeok, so time to rectify that, I reckon.
Busan Transport are a semi-professional team who play in the National League, the second tier of Korean football. They play smart football and have a never-say-die attitude which often results in some great entertainment. Entrance for all of their games are FREE, and you are welcome to bring in as much food and alcohol as you can carry. The club have made our expat following very welcome! We have a core of regulars who like to make some noise with the aid of megaphones, vuvuzelas and drums, not to mention the special assistance from the drunk businessmen with their boxes full of soju.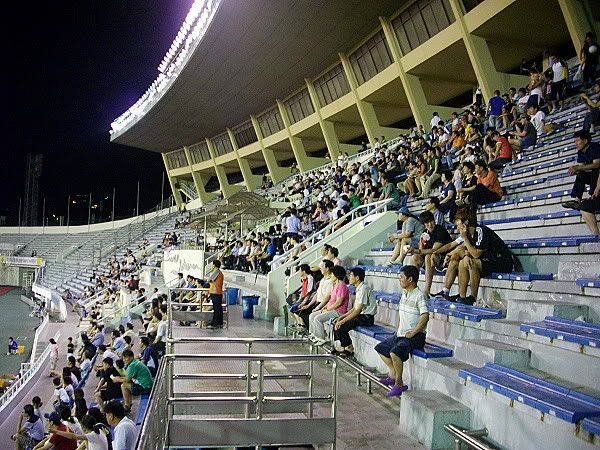 They play in the Gudeok Stadium, one of the venues for the 1988 Olympics and the spiritual home of football in Busan. With a beautiful backdrop of the Gyeongnam mountains to the east, it is
the
place to watch football in the city. Directions to stadium are as follows: Take Line 1 to Dongdaesin (stop 108). Come out at Exit 2 and follow the direction of the staircase and walk up the street for about 5 min. You can't miss it. If you are peckish, on the walk up from the station, just before you reach the junction in front of the stadium, you will find a local fried chicken restaurant, with very friendly staff who are well versed in waeguk supporters popping in for a pre-match feed/take away. At the junction, turn right to find a GS25, who are equally welcoming as you stock up on booze and snacks to take into the game.
For anyone driving, and I wouldn't recommend it as Busan has an excellent public transport system, there is a carpark directly outside the stadium.
Here is a
map
to clarify.
You can also find more details at our
Facebook group
.