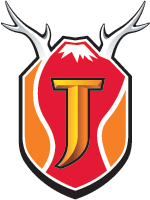 Jeju United
City: Seogwipo/Jeju City, Jeju Island
Stadium: Jeju World Cup Stadium/Jeju Sports Stadium
Capacity: 34,353
Formed: 2006
Division: K-League
Website:
http://www.jeju-utd.com
Jeju United Foreign Supporters Club
Jeju United have a very active foreigner supporters club with over 80 members. All info can be found at Facebook group "Jeju United FC Supporters"
http://www.facebook.com/home.php?ref=ho ... 102&ref=ts
How To Get There
Jeju World Cup Stadium (Seogwipo)
• From the airport take the Airport Limousine Bus bound for Seogwipo (5,000 won). Get off at E-Mart in Shin-Seogwipo (60 minutes). Stadium is behind E-Mart.
• If you are staying in Jeju City take the Seogwipo bound bus at either Jeju Bus Terminal or outside Halla Hospital in Shin-Jeju (3,000 won).
• Taxi from Jeju City to Seogwipo is typically 25,000 won and takes 45 minutes. Ask for Jeju World Cup Gyeong Gi Chang (ì œì£¼ì›"ë"œì»µê²½ê¸°ìž¥)
Jeju Sports Complex (Jeju City)
• From the airport take the number 100 bus and get off at the Suburban Bus Terminal (1,000 won, 10 minutes). Stadium is behind the bus terminal. Taxi fare is around 3,000 won, ask for Jeju Chong Hap Un Dong Chang (ì œì£¼ì¢…í•©ìš´ë™ìž¥).
• From Seogwipo catch a bus bound for Jeju City at Seogwipo bus terminal (3,000 won, 60 minutes). Bus terminates at the bus terminal, 2 minutes walk from the stadium.
Ticket Prices
Buy an orange Jeju United T-Shirt outside the stadium for 5,000 won - this will provide free entry for the entire season. If the away section is gated off and you are cheering for the visitors you can buy a ticket from the ticket office outside both stadiums for 7,000 won.
Beer and Food
• The World Cup Stadium in Seogwipo sells beer, noodles, corn dogs etc at standard Korean prices.
• On match days all you can drink FREE BEER is provided outside the stadium. Sometimes a Hite mascot will walk around the inside of the stadium dishing out free cans too. </p>
Jeju World Cup Stadium
Jeju Athletics Stadium