I work near Shingok Elementary School and, while attending a sports day festival last month, noticed they have some banners up about former students:
K-League Classic
연지민
(2006년 졸업) 수원 삼성 | Suwon Samsung
K-League Challenge
오제헌
(2007년 졸업) 경남 FC | Gyeongnam FC
정기운
(2005년 졸업) 수원 FC | Suwon FC
정민우
(2005년 졸업) 수원 FC | Suwon FC
황신영
(2007년 졸업) 부천 FC | Bucheon FC
Japan
오재석
(2002년 졸업) 감바 오사카 | Gamba Osaka
나성수
(2006년 졸업) 요코하마 FC | Yokohama FC
Europe
황희찬
(2009년도 졸업) 오스트리아 FC 레드불 잘츠부르크 | Red Bull Salzburg 입단
김재헌 (2009년 졸업) 영국 포츠머스 FC | Portsmouth (Mentioned on ROKfootball
here
but
released from the Portsmouth academy last year
. What's he up to now?)
이지훈 (2007년 졸업) 헝가리 록시즈 FC | ??? (No idea what club that is. Checked the L and R clubs
on Wiki
without success.)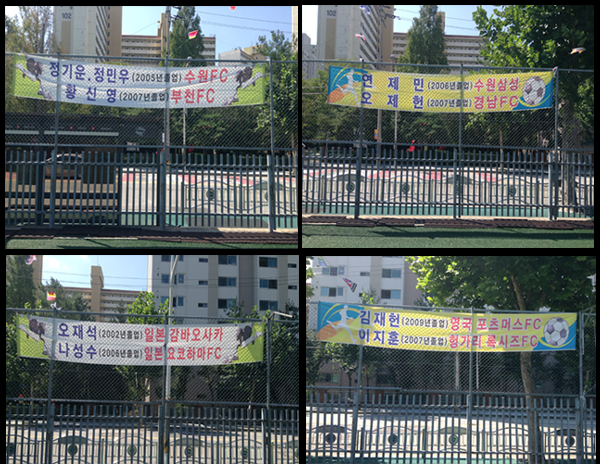 While searching for info about Kim Jae Heon I found
this article
about Singok Elementary School. Includes the comment:
Simon Kravis wrote:They were like a miniature professional team, floating exquisite crosses from tight marking, wrong-footing defenders and all with a huge level of enjoyment. Their coach hardly said a word during the games - they were so well trained that he didn't need to.
Is that The Silent One they're talking about?